LarsonBiz - Portable Vending Machines
888-408-8859 or Info@LarsonBiz.com
A portable 120 pound, credit-card processing, video/sound displaying vending machine to demo and/or sell your products.

> Model: VM05L10S
> Mounts on a wall or table.
> Dimensions: 33w x 32h x 20d.
> Demo and sell your products.
> Transport anywhere such as trade-shows.
> Dispense with WIFI Credit Card processing or optional passcode entry.
> Each purchase can automatically send you an email or texting.
> Video and Sound for each Product.
> Multilingual using your videos and displayable text.
> 5 large and 10 small dispensing bays.
> Bays hold 5 to 11 products depending on coil sizes.
> 60HZ 120V
> Just $2795 each. Discounts available for large quantity orders.
> One year warranty and support.
> Made In the USA. UPC 00857586004171
> Patented seamless dispensing columns. Patent Pending: US 62/044,733
> Patented adjustable top mounted video display. Patent Pending: US 62/081,925
> Patented Secure product output tray. Patent Pending: US 62/147,135
> Patented Software for inventory checkouts and communications. Patent Pending: US 62/111,443
> CASWPI © (Cashless Automated Sales With Product Infomercials) Vending Machine Computer Software .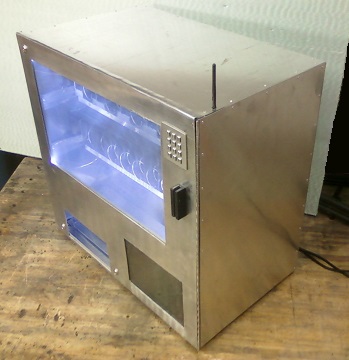 Bare aluminum metal shown here, but you can chose the paint or shink-wrap.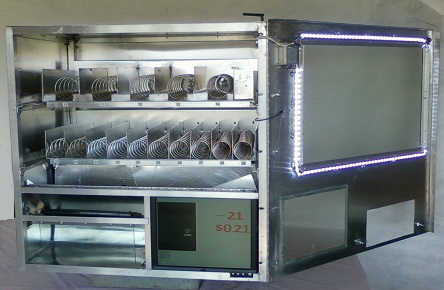 In the lower right-corner, see the video, which displays the customer selected item and price.
Also displays your product specific custom video with sound.

Shown above, the front door is opened with keyboard removed from its shelf.
The keyboard is used to configure the machine's pricing and videos.

The above picture is a view from the opened back-door.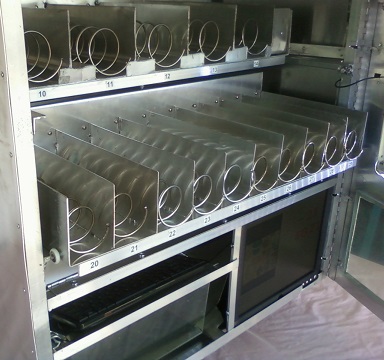 The shelves move forward for ease of restocking.