LarsonBiz - Huge Vending Machines
888-408-8859 or Info@LarsonBiz.com
Shown below a 240 product dispenser only $7K, which holds about 7,000 products.
Imagine a 1000 item order-picker for $28K, which holds almost 30,000 products.
INSTALLATION:
1) Position one or more Dispensing-Trays on your shelves.
2) Wire the trays together by connecting them to our Controller-Box.
3) Connect the Controller-Box to your Windows computer.
4) Install our Machine_ICS software onto this computer.
5) For remote monitoring, install our Remote_ICS software on one or more computers, which are networked to the Machine_ICS computer.
USAGE:
Our software enables a user to select a product by number for product information and cost. Then enter a user PIN or RFID for access or scan a credit-card for purchasing. The software enables the correct motor on a tray column to dispenses one item. The item falls from the shelf and lands on a padded table, which is positioned in front of the shelves of dispensing trays. For anti-theft security, clear polyurethane glass could be mounted in front of the trays. The trays are stocked from the front or back by sliding a tray part-way off the shelf and stacking in new items.
COST:
Shown below is a 10-column-tray for small and medium products. And shown below is a 5-column-tray for larger products.
$499 for the base system, which includes our ICS software. Then add $349 for each 10-column-tray and $249 for each 5-column-tray (20% discount for more than 100).
The above example shows 24 10-column-trays, so with discount it cost $499 + (24 x $280) = $7K.
Half trays are the same width but only 12" deep instead of the 24" trays shown below. Pricing on half-trays is about 10% less than the 24" trays.
TRAY CHOICES:
All trays are made of aluminum for strength, light-weight and non-rusting.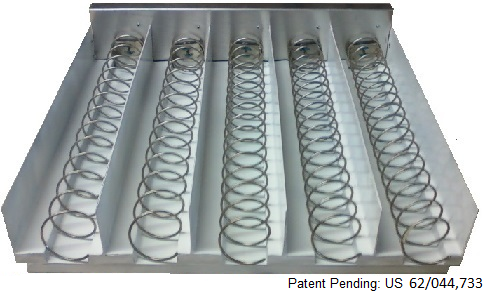 COIL (Spiral) CHOICES:
You select the type of coil for each tray.
Copyright © 2020 LarsonBiz. All Rights Reserved.